Tiffany Fitzgerald (neé Ridgewood) is a character in My New Family Series. She's the main mean girl of her generation and the love child of Christopher Copeland.
She is a member of the Ridgewood Family and the Copeland Family as well as the Fitzgerald Family through marriage.
Background
Personality
Physical Appearance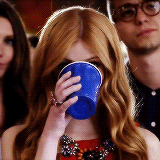 Biography
Strengths and Weaknesses
Strengths
Weaknesses
Relationships
Family
Tiffany has no relationship with her father, since she never knew who he was until after he had died and he had no idea she exists
Will Copeland (

older paternal half-brother

)
Toby Copeland (older paternal half-brother)
Thomas Copeland (younger paternal half-brother)
Keeley and her mother had a difficult relationship after she found out her mother and Olivia were sisters. She felt betrayed by her mother and wouldn't talk to her, even living with Ryder and Olivia and their family for a while
Romantic
Tiffany was obsessed with Ryder for many years, trying to break up his relationship with Olivia. Ryder and Tiffany dated for a while before Ryder and his family moved away. When he came back, Tiffany tried to get him back, but he had no interest in her anymore
Friends
Enemies
Name
Tiffany is a girl's name is of Greek origin meaning "revelation of God".
The Irish name Fitzgerald (spelled Mac Gearailt in Ireland), is of Anglo-Norman origin meaning 'the son of Gerald'. The Fitzgeralds of Ireland are said to be descended from Maurice, son of Gerald (husband of Nesta, Princess of Wales), constable of Pembroke and of a royal heritage in Wales.
Trivia