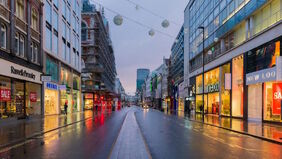 Oxford Street is a major road in the City of Westminster in the West End of London. It is Europe's busiest shopping street, with around half a million daily visitors, and as of 2012 had approximately 300 shops. It is designated as part of the A40, a major road between London and Fishguard, though it is not signed as such, and traffic is regularly restricted to buses and taxis.
The road was originally a Roman road, part of the Via Trinobantina between Essex and Hampshire via London. It was known as Tyburn Road through the Middle Ages and was once notorious as a street where prisoners from Newgate Prison would be transported towards a public hanging. It became known as Oxford Road and then Oxford Street in the 18th century, and began to change character from a residential street to commercial and retail purposes by the late 19th century, also attracting street traders, confidence tricksters and prostitution. The first department stores in Britain opened on Oxford Street in the early 20th century, including Selfridges, John Lewis and HMV. Unlike nearby shopping streets such as Bond Street, it has retained an element of downmarket street trading alongside more prestigious retail stores. The street suffered heavy bombing during World War II, and several longstanding stores including John Lewis were completely destroyed and rebuilt from scratch.
Despite competition from other shopping centres such as Westfield Stratford City and the Brent Cross shopping centre, Oxford Street remains in high demand as a retail location, with several chains hosting their flagship stores on the street, and has a number of listed buildings. The annual switching on of Christmas lights by a celebrity has been a popular event since 1959. However, the combination of a very popular retail area and a main thoroughfare for London buses and taxis has caused significant problems with traffic congestion, safety and pollution. Various traffic management schemes have been proposed by Transport for London, including a ban on private vehicles during daytime hours on weekdays and Saturdays, and improved pedestrian crossings.
Known Visitors
Trivia