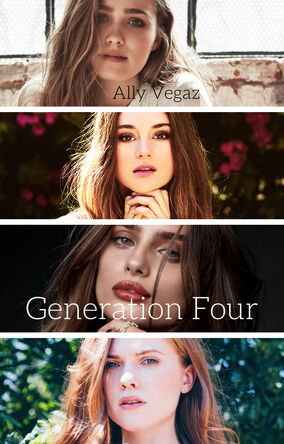 Generation Four
 focuses around the lives of
Chloe
and
Zoe
 and
Darya
and
Arya
 two cousins and the daughters of the twins
Nik
and
Keena
.
Arya
Arya is part of New York's elite models, who moves to Morrison Creek with her parents.
Taylor Hill as Arya Harrington
Jasmine Tookes as Lana Barnette
Maia Cotton as Aaliyah Harrington
Carson
Carson gets into a car accident. In the hospital she meets the other driver
Abigail Cowen as Carson Whitby
Kelsey Merritt as Alexa Gilmore
Justin Prentice as Fynn Reynolds
Maggie Laine as Eleanor Harrington
Chloe
Chloe starts falling in love with Mack, a transgender male, who she believes her parents won't approve
Andrea Russett as Rebecca Fuller
Malu Trevejo as Avery Harrington
Darya
Darya befriends Cara, who drags her and her cousin into a lot of trouble.
Shailene Woodley as Darya Ashcroft
Theo James as Marcus
Emily Ratajkowski as Cara Jericho
Faye and Shenae
Faye and Shenae start a YouTube channel, recording their lives every day.
AnnaSophia Robb as Shenae Ford
Cierra Ramirez as Juliet Montez
Kara and Alec
The Harrington twins fall in love.
Chloë Grace Moretz as Kara Harrington
Mara
Mara falls in love with a girl, which freaks her out.
Peyton Kennedy as Mara Edwards
Chloe East as Elena Harrington
Emily Skinner as Bianca Norris
Savannah
Savannah prepares for her wedding
Rebecca Breeds as Savannah Reed
Josephine Skriver as Piper Artist
Josie Canseco as Joy Harrington
Sophia and Maggie
Two orphan girls and a baby are taken in by the Harrington's
Maddie Lambert as Maggie Morris
Everly Lambert as Beverly Morris
Anastasia Bezrukova as Jessica Harrington
Stella
Stella has her first crush. The beautiful new girl with a modeling background.
Lola Flanery as Stella Harrington
Thylane Blondeau as Amélie Agreste
Gigi Hadid as Evangeline Agreste
Kendall Jenner as Brianna Agreste
Zoe
Zoe goes through her rebellious face
Haley Lu Richards as Zoe Harrington
Madison McLaughlin as Hope Harrington
Merritt Patterson as Hannah Hale
Caitlin Carver as Christina Harding
Community content is available under
CC-BY-SA
unless otherwise noted.